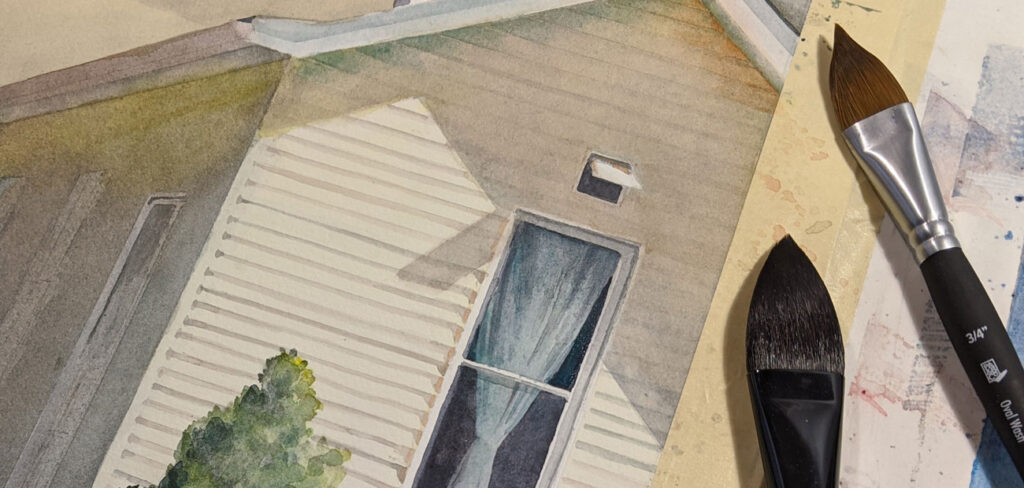 FNB Romney Exhibition
The Hampshire County Arts Council maintains an Art in Public Places program in venues around Romney, including the lobby of FNB's Romney office, at 105 N. High Street. I'm pleased to take part in this program to start off 2023, and have curated a display of watercolors featuring scenes from the region. Many thanks also go to HCAC member Ken Caldwell for coordinating the exhibit and its hanging.
---
Prices for the paintings are noted on the captions of the gallery images below (mouse over or click on the thumbnail images to display the painting title and price information). The listed prices do not include WV sales tax (6%) or Romney's municipal sales tax (1%) that combine for a 7% tax, which will be added to all sales invoices. Paintings must remain on display at FNB's office through the end of the exhibition.
Prospective buyers should contact Kristen Colebank at kcolebank@waitesrunstudios.com to make arrangements for payment (payments can be made by cash, check, or credit card) and to coordinate painting pickup at the close of the exhibit on Feb. 22, 2023.
Thank you, HCAC, and FNB for supporting the arts!
On Display at FNB Romney: Jan. 11 – Feb. 22, 2023
A little background on these paintings…
Several of these pieces were painted "en plein air," meaning I painted them on location. See my blog post to learn more about plein air, and why I feel it's important for my artistic growth. Most of the plein air watercolors are of Winchester-area landscapes, with a few exceptions, and most are inspired the Museum of the Shenandoah Valley's Glen Burnie gardens, one of my favorite places to paint.
The larger pieces are studio works, and most feature buildings from Wardensville, as well as one interesting building from downtown Oakland, Md.
The two tractor paintings are inspired by the same piece of equipment, one from before it was repainted, and the other after. The 1923 model McCormick-Deering was part of the collection of the late Hoy Dove Jr. of Mathias. In 2007, Dove's family donated to the Lost River Educational Foundation, whose members repainted it and still maintain it as an educational display in his memory at the Foundation's Artists Marketplace in Lost River.
Finally, the bank vault painting (fitting, given the exhibition's location), shows details of the massive vault door at Capon Valley Bank's Wardensville office, where it has been a central feature since the building opened in 1949.